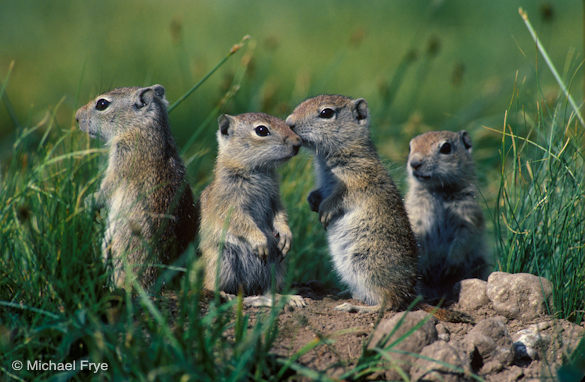 Young Belding ground squirrels standing next to their burrow
Sorry it's been so long since I last posted here—I've been working on some big projects. But I couldn't let the summer go by without writing about Belding ground squirrels—a.k.a. "picket pins."
They get that nickname from their habit of standing upright next to their burrows, watching for danger, looking, to early park visitors, like the stakes used for picketing horses. Their frequent alarm calls—a rapid series of whistles—are as much a part of the high-country experience as the afternoon thunderstorms and the lack of oxygen. Enter any subalpine meadow and these squirrels will announce your arrival to all the local residents.
Early in the summer young Belding ground squirrels can be seen everywhere, and they are undeniably cute. Many years ago, while waiting to take a shower at the Tuolumne Meadows Lodge, I saw a mother ground squirrel running with one of her tiny babies in her mouth. She dove into a burrow, then emerged, sans baby, ran off, and shortly returned with another young squirrel. She repeated this procedure three more times before disappearing down the burrow for good.
I once read a study which showed that female Belding Ground Squirrels sometimes kill, but don't eat, the young of unrelated females, and then try to take over the den site. Apparently they're trying to take over a den site that's safer than the one they previously had, in order to give their own young a better chance of survival.
Had this mother Belding ground squirrel just killed some of the old inhabitants, just to move her offspring to a better location? Unlikely. She was probably just taking over an abandoned burrow because the old one had too many fleas.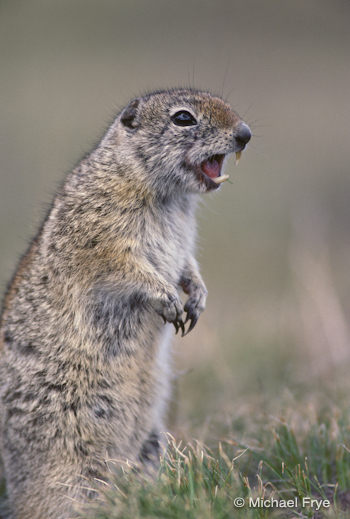 Belding ground squirrel whistling
Belding ground squirrels are also one of the few animals that are known to engage in altruistic behavior—that is, behavior that benefits another animal without benefitting, or perhaps even harming, the animal that does the behavior.
Remember those alarm calls? It seems that standing upright in the meadow making loud whistles makes these squirrels conspicuous, and researchers found that squirrels who whistled were more likely to be killed by predators than squirrels who stayed silent. So when they sound the alarm, alerting their fellow squirrels to danger, they are risking their lives to do so.
It seems, though, that these squirrels are only willing to risk their lives for animals that share some of their genes. Researchers found that almost all the whistling was done by females with relatives close by. Males, who usually live alone, and females with no relatives nearby, rarely whistled.
These little animals, such a common sight in the Yosemite high country, lead more complicated lives than we might imagine.
But when I see a Belding ground squirrel, my first thought is not about their intriguing behavior, or how cute the young squirrels are, but about our golden retriever, Elsa. In the late '80s Claudia and I would often take Elsa up to Tuolumne Meadows. Dogs are not allowed on trails in the park, and outside of Yosemite Valley are only permitted along roads and in parking lots, so we frequently had to find shady places to leave the car, with Elsa in it, while we went off hiking or taking pictures.
But we didn't worry about leaving her alone in the car. Like many dogs, Elsa was obsessed with squirrels. We knew she would be happy and entertained if we parked near some Belding ground squirrel burrows. We would tell her that we were going to visit some "picket pins" and her ears would perk up and she would start drooling. Before long we could simply say "pick-ETT" anywhere, even in our living room, and she would get excited. She absolutely loved those squirrels. Well, I'm sure she would have absolutely loved to catch one if she had the chance.
Elsa is now buried somewhere in Yosemite Valley, but I think of her whenever I hear a Belding ground squirrel whistle. Wherever she is now, I hope there are lots of picket pins.