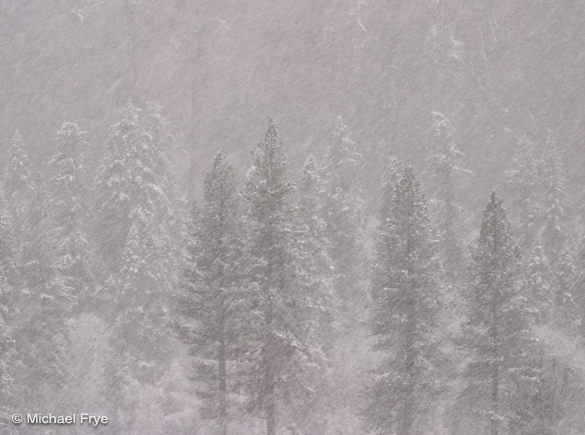 Ponderosa pines in a snowstorm
It rarely rains in Yosemite in the summer. We often see one sunny day after another for weeks.
In winter the weather gets more interesting. I'm teaching a workshop in Yosemite Valley this week, and it's been wet. Today brought the fifth storm in four days. We've seen four inches of precipitation during that period. Most of it has fallen as snow, but the temperature has been hovering just above freezing, so while the snow accumulates during intense downpours, as soon as the precipitation slows down the snow begins to melt, and the roads and walkways become filled with slush. But away from the roads it looks like a winter wonderland, with tree branches and cliff ledges outlined in white.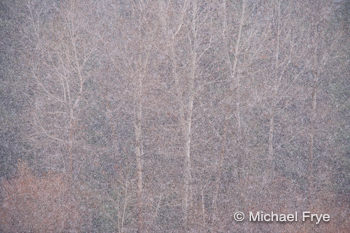 The temperature usually drops gradually during most winter storms in California, and it's always exciting when rain changes to snow. In winter, of course, every raindrop is born as a snowflake; rain is just snow that melted on the way down. When the temperature gets close to freezing, my wife Claudia and I like to look for thick rain—when the snowflakes haven't completely melted and slushy drops hit your outstretched hand or spatter the windshield. As the temperature drops further snow starts to fall in earnest. There's a moment when the ground is still bare, but thick, fat flakes fill the air. The biggest flakes fall when the temperature is near freezing and tiny individual flakes are wet enough to stick together and form balls an inch or more in diameter. Driving at night these snowballs fly at you in a mesmerizing stream, a natural kaleidoscope.
The snow itself cools surfaces and soon it starts sticking to trees and bushes, then the ground, then finally pavement. When the trees have only about a half an inch of snow on them each branch becomes delicately outlined, an etching come to life.
If the snow continues it gradually fills the woods and grows deeper in the meadows. There's a point when you can start to feel it when you're walking—when your feet have to push some snow out of the way with each step. It's a pleasant feeling at first, like walking through a cloud. You watch your feet kick out little plumes with each step. But as the snow gets deeper walking becomes difficult, and it's time to put on skis or snowshoes.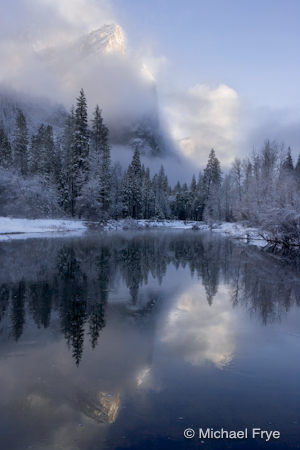 Falling snow is beautiful, but a clearing storm in Yosemite Valley can be magical. As the skies clear,  swirling mist alternately hides and reveals impossibly high cliffs. Spots of sunlight appear and disappear, illuminating first one rock, then another. This sight always leaves me humbled and awestruck no matter how many times I've seen it before.
Clearing storm, Three Brothers and the Merced River